The Five Best Cars and SUVs for Tall People
Cars and Tall People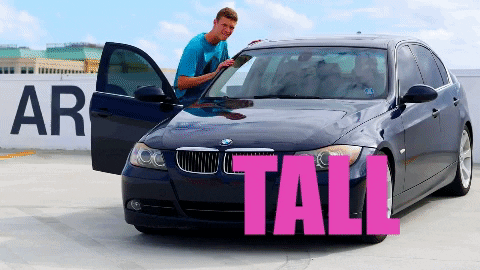 Have you ever successfully fit a round peg into a square hole?  You squeezed and twisted that peg but all it did was get stuck and wouldn't fit the way it should. That's what happens when a tall person tries to fit into a car designed for a shorter individual.  If you squeeze into a too small car, you can not only put yourself in danger of having an accident while driving, you put yourself in danger of looking comical when that is definitely not your intention. 
We know that being tall has its advantages. We're not trying to be greedy in the admiration department but we want to look good driving too. Read on, if you desire a good looking car or SUV with balanced leg room, headroom, comfortable reach to the steering wheel and an interior to truly accommodate your size.
We've compiled our list based on a variety of specs including Car and Driver research. We at Heights Apparel enthusiastically recommend these five best cars and SUVs for tall people.
2018 Nissan Leaf
Just a few years ago, sleek and sophisticated weren't words used to describe Smart technology cars. Thankfully, times are a-changing.  Our pick for the best Electric car for tall people is the Nissan Leaf. It's a good looking competitor to some of the more popular electric car companies. It's roomy and built to last. It's a sleek SUV with a more sophisticated look than the earlier electric cars. It offers roomy passenger space as well as the headroom and legroom needed to accommodate tall people.  It's got an improved and powerful battery from its earlier concept that will save you money on gas. With the Leaf, you can look good while saving the planet and your wallet.
Front Leg room: 42.1 inches

Rear Leg room: 33.5 inches

Gas: 111 MPGe * EPA Combined City/Hwy 123 City 99 Highway
* Miles per gallon equivalent. 1 MPGe = 1 mi / 33.7 kWh
2020 GMC/Chevy Tahoe
There is definitely something about the look of a Chevy Tahoe that commands respect on the road. Tall men and women respectively, love to drive this time-tested, American-loved SUV. Their ample leg and headroom, roomy passenger seating and great cargo space for luggage and equipment makes a Tahoe great for long distance travel.  If you do weekend boating, the Tahoe is ahead of the pack with a maximum capacity of 8600 pounds of towing power. You may not save as much on gas, but you will be the bad ass on the road. 
Front headroom: 42.8 inches

Front legroom: 45.3 inches

MPG: up to 15 city/22 highway
2020 Lincoln Navigator
If you crave the roominess of a SUV with the elegance of a high-end sedan, then check out the Lincoln Navigator.  We love the look of this ride. It's got sleek lines, an opulent interior, and a commanding exterior with a prideful grill and rich trim. The interior guarantees driver and passenger comfort. It boasts roomy, massaging seats that will heat or cool, along with other bells and whistles of luxury. The 2020 Lincoln Navigator is definitely not your grandfather's Sunday-driving Lincoln. *Model shown is the bullet proof version for the tall guy gangster in you.
Front Headroom: 41.8 inches 

Front Legroom: 43.9 inches

MPG: 16 city/up to 22 Highway
2017 BMW 5 Series Gran Turismo
If you've always had your heart set on a car with these three impressive letters, then the BMW 5 Series Gran Turismo may be a tall person's dream. It's a dynamic combo of a sedan, SUV and hatchback. It's been described as a large, luxury station wagon without the look of a wagon but the speed of a sports car. It makes our list for headroom, leg room and ride quality. You can get your beats on with an awesome sound system that may not require after-market upgrades. This baby boasts leather seats, wood trim and plenty of options to satisfy any tall BMW enthusiast.
Head room:

41.4 inches

Front Leg room: 40.6 inches 

MPG:

17 city/21 highway
2016 Jeep Wrangler
Who doesn't love a Jeep? With a soft top that is a breeze to take off, the Jeep Wrangler gives tall people the perfect convertible option with unlimited head room.  It's a SUV with removable doors that will allow you to enter effortlessly. Our only caveat is that depending on how tall you are, you just may be looking over the dashboard. If that doesn't bother you, hop in, stretch your legs out and enjoy the ride.
Front Head Room: 41.3 inches

Front Hip Room: 55.6  inches

Front Leg Room: 41.0 inches

Front Shoulder Room: 55.8 inches

MPG

: Up to 17 city / 21 highway
Bonus Addition! 2021 Ford Bronco
If you belong to our Facebook Group Tall Guy Society, we posted about the new 2021 Ford Bronco when it was revealed. Love or hate the re-birth of the Bronco, you can't deny the size and legroom it has to offer. 
Front Head Room 41 inches soft top; 40.8 inches hard top 

Front Hip Room: 56.3 inches 2-door; 55.9 inches 4-door

Front Leg Room: 43.3 inches

Front Shoulder Room: 57.1 inches

There you have it! We would love for you to share pictures of you in your favorite car for tall people!  Post it on Instagram and tag us @heights_apparel
---
We create clothing specifically designed for tall guys. Shop the latest tall style for on the store today.
Related Articles:
Sources:
https://www.caranddriver.com/research/a31610181/cars-for-tall-people/
https://cars.usnews.com/cars-trucks/best-luxury-cars-for-tall-people
https://cars.usnews.com/cars-trucks/rankings/luxury-large-suvs